Press enter after choosing selection
Let her fly : : a Father's Journey
Yousafzai, Ziauddin, author. Book - 2018 On Order None on shelf No requests on this item Community Rating: 5 out of 5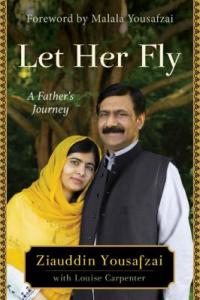 AADL has no copies of this item

Father -- Sons -- Wife and best friend -- Daughter.
"A moving and inspirational story with a deeply personal look into the Yousafzai family, "Let her fly" traces Ziauddin Yousafzai's life journey. From an unconfident, stammering little boy living in a mud house in a mountainous region of Pakistan to a man who has broken with regressive social norms, Yousafzai has proven that there are many faces of feminism. As an educator, a family man, and an activist, Yousafzai has championed positive changes in all aspects of his life, be it empowering his daughter, Malala, to be a global leader, fighting for girls' education around the world, or teaching his sons the value of equality. With humor and sincerity, Yousafzai describes his life in Pakistan before the Talibanization of the Swat Valley; through scenes of his sons, Khusal and Atal, flying kites on the roof of their home; to his progressive partnership with his wife, Toor Pekai, and their challenge of raising children in an unfamiliar country. After Malala was shot by the Taliban, the Yousafzai family was completely uprooted from Pakistan and forced to start over in the United Kingdom. Now Yousafzai expresses the complex pain and joy of his return, six years later, to his beautiful homeland. "Let her fly" is an intimate family portrait by the father of one of the most remarkable leaders in the world today. For the first time, readers will learn how an ordinary man from rural Pakistan started a school with the express mission to educate young women for a bright future and became an activist and a global leader in his own right. Ziauddin and Toor Pekai have set a singular example for parents who hope to empower their children to make a difference. "Let her fly" will resonate with anyone who has ever cared for a child as Ziauddin Yousafzai shares what he's learned from his children and what he hopes to teach the world"--Dust jacket.
The father of Malala Yousafzai traces his journey from an unconfident, stammering little boy living in a mud hut in Pakistan to a man who has broken with tradition and proven there are many faces of feminism.

REVIEWS & SUMMARIES
Library Journal Review
Publishers Weekly Review
Summary / Annotation
Author Notes
COMMUNITY REVIEWS
Excellent Book submitted by ValerieL on December 10, 2018, 1:05pm This was a fascinating and wonderful book to read. While there is a lot about Malala and her life, there is also a lot about her father's life before her. It's a wonderful read about how HE came to be an advocate for women and girls, about his journey through death threats and almost losing his daughter. There is a lot of wisdom in this book and I believe I'll be reading it a second time and writing down quotes before I return it.

The book flows well from one segment to the next. The prose is well-written and easy to read. This is not a dry, boring nonfiction book. This is a dynamic tale of how each life choice can change everything.

I highly recommend this book.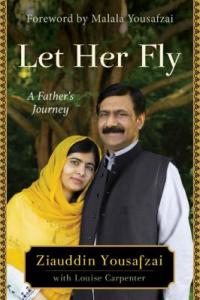 PUBLISHED
New York : Little, Brown and Company, 2018.
Year Published: 2018
Description: 169 pages, 8 unnumbered pages of plates : illustrations (chiefly color) ; 22 cm
Language: English
Format: Book

ISBN/STANDARD NUMBER
9780316450508
0316450502

ADDITIONAL CREDITS
Carpenter, Louise, 1970-
Yousafzai, Malala, 1997-

SUBJECTS
Yousafzai, Ziauddin.
Yousafzai, Malala, -- 1997- -- Family.
Political activists -- Pakistan -- Biography.
Educators -- Pakistan -- Biography.
Girls -- Education -- Pakistan.
Autobiographies.