Press enter after choosing selection
Audience of one : : Donald Trump, Television, and the Fracturing of America
Poniewozik, James. Book - 2019 324.73 Po 2 On Shelf 1 request on 3 copies Community Rating: 4.7 out of 5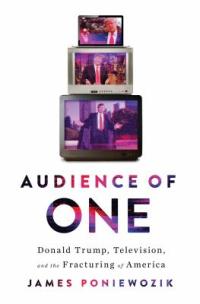 Locations
Call Number: 324.73 Po
On Shelf At: Downtown Library

Location

& Checkout Length

Call Number
Checkout Length
Item Status
Downtown 2nd Floor
4-week checkout
324.73 Po
4-week checkout
On Hold Shelf
Downtown 2nd Floor
4-week checkout
324.73 Po
4-week checkout
On Shelf
Downtown 2nd Floor
4-week checkout
324.73 Po
4-week checkout
On Shelf
Part I: Origin story. Unreal estate ; The least objectionable program ; Monopoly ; As himself -- Part II: Antihero. The dark side ; Money money money money! ; The paranoid style in America's newsroom ; The most objectionable program -- Part III: President Television. Red light ; The gorilla channel ; Finale: The idea of a president.
"A generational work that, using television, reframes America's identity through the rattled mind of a septuagenarian, insomniac, cable-news-junkie president. In the tradition of great cultural figures like Marshall McLuhan and Neil Postman, New York Times chief television critic James Poniewozik traces the history of television and mass media from the early 1980s to today, and demonstrates how a "volcanic, camera- hogging antihero" merged with America's most powerful medium to become our forty-fifth president. Beginning where Postman left off, Audience of One weaves together two compelling stories. The first charts the seismic evolution of television from a monolithic mass medium, with three mainstream networks, into today's fractious confederation of "spite-and-insult" media subcultures. The second examines Donald Trump himself, who took advantage of these historic changes to constantly reinvent himself: from boastful cartoon zillionaire; to 1990s self-parodic sitcom fixture; to The Apprentice-reality-TV star; and, finally, to Twitter-mad, culture-warring demagogue. A trenchant, often slyly hilarious, work, Audience of One provides an eye- opening history of American media and a sobering reflection of the raucous, "gorillas-are always-fighting" culture we've now become"-- Provided by publisher.

REVIEWS & SUMMARIES
Library Journal Review
Booklist Review
Publishers Weekly Review
Summary / Annotation
Table of Contents
Fiction Profile
Author Notes
COMMUNITY REVIEWS
No community reviews. Write one below!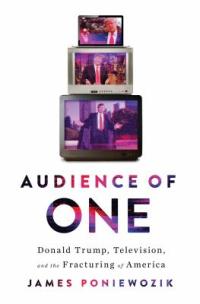 PUBLISHED
New York, NY : Liveright Publishing Corporation, a division of W.W. Norton & Company, [2019]
Year Published: 2019
Description: 325 pages ; 25 cm
Language: English
Format: Book

ISBN/STANDARD NUMBER
9781631494420
1631494422

SUBJECTS
Trump, Donald, -- 1946-
Trump, Donald, -- 1946- -- In mass media.
Mass media -- Political aspects.
Television in politics.
Political culture.